Spring Into Fitness With Your Pet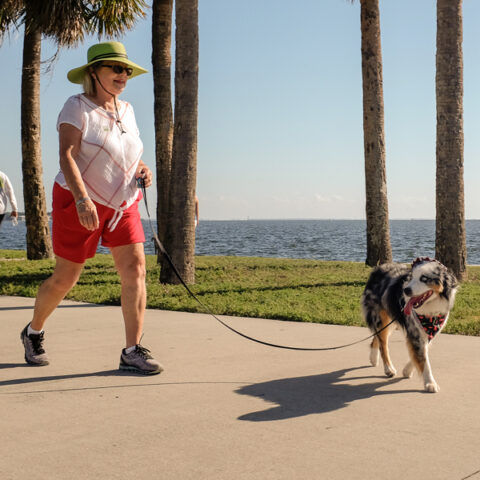 Tackle the spring with a new pet fitness routine. Obesity can cause a multitude of health issues that can impact quality of life for your pet. Extra weight can put stress on muscles and joints. Heart health can also be impacted, increasing the risk of cardiovascular emergencies. The risks associated with obesity are known, but we also know losing weight is hard. If you suspect your pet may be overweight the first step is to speak with your veterinarian. Then commit to a plan, set goals and monitor progress.
Make an appointment with your veterinarian – they will be able to make a true assessment of your pet's weight and advise you on next steps. Pet owners have cited embarrassment and fear of judgement as reasons not to address their pet's weight head-on, but know that veterinarians are here to put your pet's health first. Being honest and getting a true assessment is the first step to a healthy weight journey.
Follow your veterinarian's recommendation – Your vet will help you identify factors that may be contributing to your pet's obesity. This may involve changing the type or quantity of food you are offering, incorporating more exercise into your routine and making a commitment to break any bad habits like offering table scraps. Ensure all members of the household understand and commit to the management plan.
Set goals – Celebrating small goals can make a long, hard journey easier and more fun. Work with your vet to create weekly or monthly goals that are realistic and measurable. When you hit the first goal, it'll boost morale and encourage you to continue on the path.
Make it fun! – Losing weight is hard but you can still make it enjoyable. Take some time to find some things you and your pet like that you can do together. Bored walking around your neighborhood? Load your pup in the car and walk around a new area. Check out a corner of town you've always been interested in, check out a dog-friendly park trail or take a swim together at one of Pinellas' dog-friendly beaches! Friends always make things more fun too – consider joining a dog-walking meet-up group.
About The Author: Rizal Lopez, DVM, is Chief Veterinary Officer for SPCA Tampa Bay. He and his staff have completed over 8,000 procedures since opening the St. Pete Veterinary Center in late 2016. Dr. Lopez, since joining the organization in 2011, has performed over 20,000 spay/neuter procedures for the community. He held several positions with the organization before taking the lead veterinary role at the center.