SPCA Tampa Alumni – Sarah the Dog
"The mom and pups were caught in the tornado that hit on 2/2/07. They were rescued and brought to SPCA [Tampa Bay] on 2/5/07. The mother passed away and with no mother to feed them, we were able to adopt her on 2/23/07.  She was with us until her final moment on 6/13/22 when she was put to rest. She was 15 1/2 years old."
Sarah as a puppy in 2007.
It was the summer of 2007 and Sumter County, Florida had just been devastated by the Groundhog Day tornado outbreak. Thousands were without power, hundreds lost their homes, and some even lost loved ones. Among those who did not survive the storm was a canine mother of three. Soon after the disaster, her puppies were transported to SPCA Tampa Bay where they would receive the care that they needed until adopted. It was at our shelter that Cathy Wrigley and her family fell head over heels for one of these 4-week-old orphans, Sarah, and quickly took her into their home.
2007 news article covering SPCATB disaster relief.
When did you adopt Sarah? How long has she been a part of your family?
"Sarah was born in Sumter County on 1/8/07 along with 3 other pups to a mom that had been abandoned. The mom and pups were caught in the tornado that hit on 2/2/07. They were rescued and brought to SPCA [Tampa Bay] on 2/5/07. The mother passed away and with no mother to feed them, we were able to adopt her on 2/23/07.  She was with us until her final moment on 6/13/22 when she was put to rest. She was 15 1/2 years old."
Sarah at 8 months old.
What drew you to adopting Sarah? How did you find out about her?
"The boys were asking if we could get a dog. The twins were 10 and youngest was 8. We sat down as a family and discussed the responsibilities that came with caring for a dog and how everyone would need to pitch in to help. We had adopted dogs many years prior from SPCA so decided to stop in and see what animals were available. We immediately saw the puppies and fell in love. We took each one outside to play and see what their personalities were. Sarah was very independent and we decided she was the one for us!"
Sarah with her mom and brother.
How has your life changed since adopting Sarah?
"We had lost our Shepherd mix in 2001 at age 13 to old age. Our retriever was also 13 and died 6 months later-I think of a broken heart- as they were raised together since they were pups-both rescue dogs. I was so grief stricken, I said "Never again." The boys were 6 and 4 at the time. Bringing Sarah home made me remember why it was so important to help these dogs live their best life, even though it hurts so much when they leave us. For the boys, it brought out the maturity in them. They had to care for a life that depended on them and then showed them unconditional love. I have 3 boys so we always joked that Sarah was the daughter I never had. I don't believe she knew she was a dog. She did not like other dogs and was very protective of us around dogs. She even defended me against [another dog] that attacked her and I while we were out on a walk. At just 40 pounds, she never backed down and kept that dog from biting me. Once we got away and ran the rest of the way home, she looked at me with such concern in her eyes as if she was saying 'Are you OK?' Such loyalty, love and protection from her-it was overwhelming to me."
Sarah in 2014.
What things did you love to do together?
"Sarah was very active and could run faster than any dog I had ever seen. We had a big backyard for her to run and the boys loved to throw a ball to her. She hated water-probably because of the tornado she was in before being rescued, so she never swam in our pool and HATED baths! She was also so smart and was housebroken in just 3 days after bringing her home! Her daily walks were something she looked forward to and would run in circles when she saw us grab the leash!"
What were some of Sarah's favorite things?
"I think Sarah's favorite things were her 3 brothers, taking naps with my husband when he got home from work, and eating. I loved to cook for her making chicken, beef liver, green beans, carrots, and sweet potatoes. She always ate very well and stayed within 1-2 pounds of her 40 lb weight her entire life."
Sarah and her brothers snuggling in the car.
Do you have other pets? What was Sarah's relationship like with them?
"Sarah was our only pet. I don't think she would have been fond of us sharing our attention. She was used to being the Queen. The Vet used to always say "Sarah is her own dog" because if she didn't like something, she let you know!"
Sarah lounging on the couch.
How do you hope Sarah's story will inspire others?
"I hope Sarah is an inspiration to others that are looking for a companion or another member of the family. These animals have so much to give. You will receive so much more in return by just loving them and making them feel safe. Although it is sad when their short life is up, just know how much you improved their life and their kisses let you know that every day.
For a senior that is not that active anymore, an older dog is a perfect companion. For a young family with children, an active puppy teaches responsibility and selflessness."
Sarah's memorial garden.
Anything else that we should know about Sarah and your family?
"Just a Thank you for giving us almost 16 years with our beautiful, loyal Sarah❤️"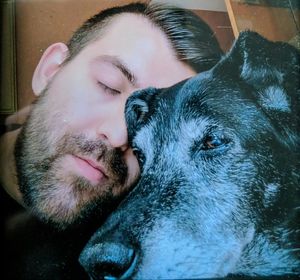 Sarah and brother snuggling.
__________________________________________
The SPCA Tampa Bay Alumni series features the heartwarming life stories of our shelter animals and their families following their "happily-ever-afters". If you or someone you know has adopted an animal from SPCA Tampa Bay and would like to share your story, contact our team today!  
About the Author: Camille Harkenrider, SPCA Tampa Bay's Shelter Content Creator, works to bring the stories of our shelter to life with captivating messaging and images. She currently lives in the Tampa Bay area with her husband, four cats, two rabbits, and many fish.