SPCA Tampa Bay Helps After Kentucky Flood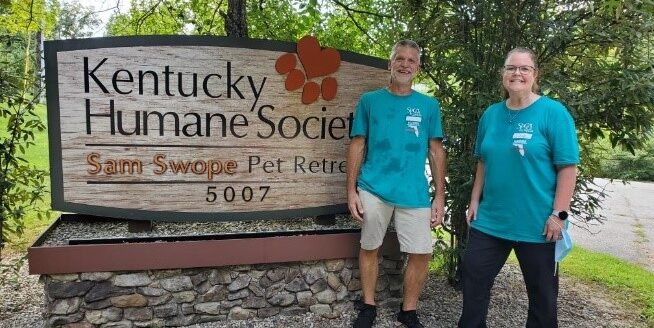 Two members of the SPCA Tampa Bay team, Julie Martin and Tod Stephens, were deployed to eastern Kentucky last week to assist in the wake of the recent devastating flooding.
"I had an amazing experience being deployed to Kentucky. I was at a facility they usually use for overflow and/or behavioral training. They are using it as a hub for animals going to fosters and other out of state partners. Duties included providing basic care for dogs and cats like: feeding, cleaning cages, providing enrichment, and walking dogs," said Julie.            
Julie, a pocket pet volunteer photographer, and Tod, who is part of SPCA Tampa Bay's maintenance/facilities staff, as well as a volunteer dog walker, both went through the Florida State Animal Response Coalition (FL SARC) training earlier this year. FL SARC reached out to them in July stating that the Kentucky Humane Society needed help processing dogs that were lost during the flooding situation in Kentucky. They were deployed last week and were assigned to the same team supporting Kentucky Humane Society Sam Swope Pet Retreat.
"This is a wonderful example of our mission in action, expanding beyond our local community. I'm so grateful to Julie and Tod for offering to help and bringing joy and relief to those animals and humans who needed their support," said Colleen Cherry, SPCA Tampa Bay Volunteer Program Manager.
During their time there, Julie and Tod cared for a group of puppies, dogs, kittens, and cats that all moved on to fosters or other locations. Then another twenty dogs arrived that eventually were headed to New York, Connecticut, and Ohio. In total, they cared for around one hundred animals, all of which have had a rough journey. Animals that were lost during the flood, or in cases where the owners couldn't be located, were being processed at another Humane Society location.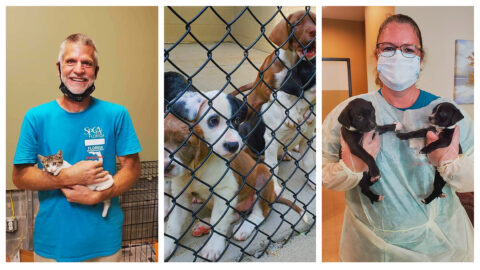 "There were several dogs at the shelter when we arrived, so the first step was to set up a schedule for feeding the dogs and cleaning out their kennels. My team started on that immediately. A few of the dogs that I worked with were two beautiful black shepherd siblings, Raven and Bella, and a pit bull named Tank who loved belly rubs. He was a gentle giant and soon became my favorite," said Tod.
"We were able to provide them not just care but much needed love and attention. Each day was different, the work was very hard, but so rewarding! I learned a lot and feel honored to be a part of their journeys," exclaimed Julie.
If you're interested in becoming a volunteer for SPCA Tampa Bay, please visit https://spcatampabay.org/volunteer or contact Colleen Cherry, SPCA Tampa Bay Volunteer Program Manager at ccherry@spcatampabay.org. For more about FL SARC, please visit https://flsarc.org.