Heart of Humanimality: Ava's Story
Every pet that comes into the SPCA Tampa Bay Veterinary Center has a story. It's hard to imagine that a tiny four-and-a-half pound terrier like Ava could have such a big heart, but according to her mom, Margaret, Ava has helped carry her through some of her most difficult times.
Ava's story goes back before her birth, even before Margaret met the first Yorkie that won her heart. After relocating to Florida in 2002, Margaret's then 14-year-old son, Nicky, was having trouble adjusting. When she spotted a flyer advertising Jack Russel Terrier puppies, Margaret had an epiphany! She adopted a JRT puppy for Nicky, who he named "Deano". Why Deano, you ask?
"While in PA our children would often go on location shoots with us while we were shooting composite cards at a modeling school or a photo shoot for any one of our advertising agencies, back when we first started our business called Pelak Studios. While on the sometimes long drives to location shoots we listened to music in the car, back in the day where you only had the radio or a cassette player. My husband would play oldies from the "Rat Pack" which consisted of All five members of the Rat Pack, Peter Lawford, Frank Sinatra, Dean Martin, Sammy Davis Jr. and Joey Bishop. " Hence the name Deano.
After moving back to Pennsylvania years later, a friend of Margaret's daughter fell on hard times and needed a place to stay with her Yorkshire Terrier, Tazzy, Margaret was happy to oblige. During the time that Margaret, Deano, and family lived with Tazzy, they grew to love and appreciate the tiny yet tenacious breed.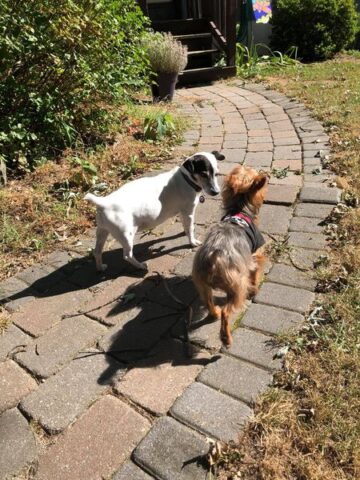 "We loved how regal she was and how intelligent. The thing is what we didn't expect was that she instinctively knew that I was the one that needed her more than she needed us!!! She was like my constant shadow and we bonded. She snuggled into my body whenever we slept and she was a complete comfort to me as we transitioned into our senior dog "Deano's " end of life."
Soon after, Margaret, her twin sister, Lavinia, and her niece, Kathryn, all welcomed sibling Yorkie puppies from the same breeder, Kurt Borgmann, also known as "Kurt Mussels" due to his career as a body builder. Margaret was over-the-moon to finally have her Yorkie puppy, but coming up with the perfect name for this sweet girl was a challenge.
"It took me months debating over what to call her as I dreamt of a day when I would finally get the chance of owning my very first Yorkshire Terrier. As I looked up the meaning of her name or did web searches on the name Ava, I discovered Ava Gardner was married to Frank Sinatra and also Ava Gardner's middle name was Ava Lavinia Gardner and (also my twin sister's name). HOW ABOUT THAT?! Rat pack for LIFE!" 
Sadly, in early 2020 Margaret experienced the devastating loss of her son, Nick. During this time, Ava showed concern for her mother as she grieved, comforting her as she cried and licking away the tears. The bond that Margaret and Ava share and Ava's loving nature helped Margaret survive the most painful of losses.
Recently, Ava suffered an unfortunate accident and broke her leg. Her mom reached out to SPCA Tampa Bay Veterinary Center for help, where she received initial care and was referred to an orthopedic specialist. The specialist determined that surgery is not needed, and Ava's bones are healing well on their own! Ava has been visiting the Vet Center frequently for bandage changes, and has quickly become a staff favorite with her sweet demeanor and soulful brown eyes.
When Ava's not charming the Vet Center staff, she enjoys the finer things in life, including her tiny tennis balls, a scented cow clip from Scentsy, No-Hide Salmon Recipe Dog and Cod Stix from Earth Animal, and wild-caught salmon or cod sticks from St PetersBARK in downtown St. Pete. 
Margaret wishes to extend sincere gratitude to SPCA Tampa Bay Veterinary Center for the assistance and care that she and Ava have received since their first visit in 2020.
"I will never go anywhere but to TB SPCA!! Thank you from the bottom of my heart to the tips of my toes for the excellent care always at the SPCA. I know when I say to my, " Ava " you're going to the SPCA she is happy and excited to go!!!"
SPCA Tampa Bay's "Heart of Humanimality" series features compelling stories of the human and animal connection. The bond between humans and animals brings a joy like no other. As community advocates for the humane treatment of all animals, we work to bring more of this joy to people and pets throughout Tampa Bay. Each story in this series showcases the unique bond between human and animal, and this bond is what evoked the creation of our term "Humanimality". Please join us in spreading the Humanimality!
Blog crafted by Amanda Corzatt, M.A. Biology, former professional shark trainer, goat wrangler, and serpent spokesperson, turned Digital Marketing Creator at SPCA Tampa Bay.